2. Cristiano Ronaldo-
And so, we have arrived. After counting down for the best part of two months, the series that began the Monday after Barcelona's Champions League triumph concludes here. Not many will be surprised by the final two placings, but nevertheless, there confirmation needs to be made official.
2010/11 was another landmark individual season for Cristiano Ronaldo. Forty goals in the league made Ronaldo the Pichichi winner for 2011, as he surpassed Telmo Zarra to become the La Liga's record single campaign goal scorer. With fifty-three overral, Ronaldo was equally effective in Europe, bagging six in the Champions League and a further seven in the Copa Del Rey.
Hair slicked back, arrogant and petulant as always, Ronaldo enjoyed his most productive season ever last year. However, the Portuguese international took home just a single trophy - and only a minor one at that.
Next year, Ronaldo hopes to finally pip Messi to the game's major honors, something which is certainly easier said than done. Messi has the advantage of possibly the finest support cast of all time, while Ronaldo is left to constantly adjust to the fickle fancies of Florentino Perez.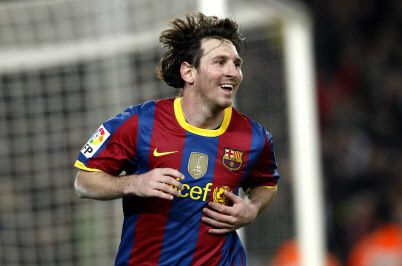 1. Lionel Messi-
So here he is. The soon to be three time Ballon D'Or winner is INFTH's best player too. Congratualtions, Lionel Messi.
There are few positive descriptors that haven't been applied to Messi over the past year. He is a multi dimensional attacker, the quintissenital modern player; a goalscorer and a creator. With fifty three goals in all competitions, Messi's record is actually marginally worse than Ronaldo's, as he took fifty-five games to get his goals, while Ronaldo took only fifty-four.
However, where Messi stands ahead of Ronaldo is in the haul of trophies that both he and Barca claimed last year; a Champions League at Wembley, and a third straight Spanish league crown.
Despite all his achievements, and the scale of those is unquestionable, Messi was unable to make an impact on the international stage this summer. The little Argentine has failed to score in his last two international tournaments, and I for one sorely hope that those failures don't tarnish the eventual memory of a man who should certainly be regarded as one of the best of all time.
Messi is the best player in the World, and not many would argue with that.
Read more by David Yaffe-Bellany at EPL Talk