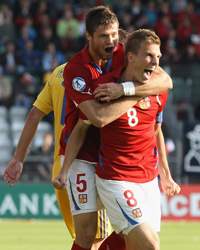 1. Borek Dockal-
The captain of what looks to be a very handy Czech Republic side, Dockal is a box to box midfielder, composed on the ball and capable of producing in the opposition's penalty area.
Having looked impressive in the first half, Dockal really shot into the limelight with two cracking goals in the space of seven minutes. The first was a smashing, one time volley and the second a sweet stroked home finish from the edge of the box; no question about it, both were classy strikes.
Constantly linking together the midfield, Dockal worked extremely hard for the cause, and was a big part of the Czech's second half midfield domination. For a young man, Dockal looks like a great leader, he was clearly seen shouting at his teammates, encouraging them to keep on going late in the game.
He may not be the next Pavel Nedved, but there is definitely a future for Dockal in the Czech central midfield.
2. Kyle Walker-
A speedy right back, Walker has already had some experience with the senior team, and it showed against Spain. By far England's best player, Walker was constantly up and down the flank, defending strongly against players like Thiago and Jefren, as well as causing the Spanish full backs problems of their own.
Able to move quickly with the ball at his feet, Walker was England's most dangerous attacker, and it was fitting that he capped his performance with a magnificent assist. Cutting inside two Spaniards, Walker touched a ball through to Danny Welbeck, who finished with aplomb; an unlikely point garnered though Walker's brilliance.
3. Ander Herrera-
I know we've heard it all before, but this man is the next Andres Iniesta. Terrific with the ball at his feet, Herrera was imperious in the center of midfield for Spain, forging a great partnership with Javi Martinez, and scoring the opening goal to boot.
His little one-twos were reminiscent of neat players like Xavi and Ineista, as were his deft touches on the ball. Herrera's vision also flagged him out as one of the players of the game, he was constantly introducing teammates into the game with his sweeping balls wide.
Scoring a poachers goal, Herrera proved that he is not just a silkily skilled maestro, but a brave and opportunistic one as well. It's hard to imagine many of the current crop of Spanish midfield players throwing themselves at a far post flick on, so Herrera could introduce a new attitude into the Spain dressing room.
4. Javi Martinez-
We knew pre tournament that this brilliant Athletic Bilbao midfielder was one to be watched, and he confirmed all our suspicions with a man of the match display against England.
As a deep lying creative midfielder, Martinez dictated the tempo of the game, and rendered England counterpart Jordan Henderson totally ineffective. Interestingly, Martinez also looked a threat in the air, rising highest to set up Herrera's opener, and winning another impressive header later on.
A capable captain, Martinez led by example, harrying the English when not in possession, and encouraging less well known teammates to get involved when (for the vast majority of the game) Spain did have the ball. With Xavi getting on in years, and Iniesta still injury prone, there may well be a starting spot for Martinez in future Spanish midfields.
5. Thiago Alcantara-
A Barcelona youngster, it was clear to all that Thiago has been fully ingrained into the Catalan style of play. A wondrous dribbler, Thiago wove his little patterns all over the pitch, turning the English defense this way and that.
As demonstrated on a couple occasions in the second half, Thiago has the ability to turn sharply, taking two or three players right out of the game and opening up space for the Spanish attack to move into. Deft in his touch, Thiago looks to have mastered the very Barcelona art of the one-two, he'll have no trouble blending in if he ever gets a senior call-up.
I read a story yesterday linking Thiago to Bolton Wanderers, however, on the basis of this performance he should be thinking about a move a little more ambitious than that.
Read more by David Yaffe-Bellany, "The Chairman" at
Red Flag Flying High