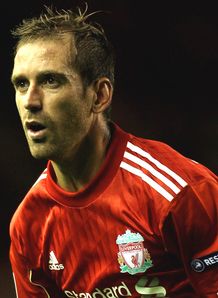 74. Raul Meireles-
After great success with Porto over the last few seasons, Meireles sealed a move to a new look Liverpool, one headed by manager Roy Hodgson. Unfortunately, Hodgson's tenure was to prove a disastrous one, and during the first half of the season Meireles struggled to make a mark on English football; something which would change come the arrival of Kenny Dalglish.
A truly complete midfield player, Meireles is capable of putting in strong tackles, as well as spraying scintillating passes across the pitch. He is also a prolific goalscorer, and had Dalglish been in charge all season Merieles would surely have improved on his five Premier League goals. Making up that five were big game goals against Everton and Chelsea as well as blasters like the one he netted against Wolves.
For the National Team, Meireles is a default starter and he played in all four of their games at the 2010 World Cup, scoring one goal against North Korea. Certainly, Meireles will have a starring role at Euro 2012 (if Portugal get there) and I for one am looking forward to seeing him play at an international tournament with Premier League experience in tow.
73. Christian Abbiati-
Eighteen clean sheets, a Serie A winners medal and a burgeoning reputation, 2010/11 wasn't a bad season for Abbiati now was it?
After a series of loan spells, Abbiati finally returned to AC Milan a couple years ago, and has managed to fill the boots of Dida in a far more satisfactory manner than men like Marco Storari. Abbiati forced himself back into the minds of serious football fans with a series of impressive performances with Milan, ones that helped propel the Rossonerri to the Scudetto.
Abbiati was part of a fantastic back five for Milan, in front of him were Thiago Silva and Alessandro Nesta and together that unit formed one of the stingiest defenses in Serie A.
In 2009, Abbiati claimed that he would never return to the Italian national team unless it was in a starting capacity, and with players like Buffon and Federico Marchetti in his way, that looks a pledge which will effectively end his international career.