One of the summer's most drawn out and vociferous sagas, Modric's touted move to all of the elite teams in England has made headlines for the past few weeks. Manchester United, in dire need of a creative midfielder, have been lurking with intent, while moneybags Manchester City are as ever around. However, seemingly leading the race for his signature are Chelsea, who have had a twenty-two million pound bid rejected, but appear to have turned his head.
For all Daniel Levy and Harry Redknapp's talk of Modric not being for sale at any price, we all know that what the player wants the player gets. We've been through this before with Spurs, there was Michael Carrick and then Dimitar Berbatov, two men who Tottenham categorically denied were on their way out, yet eventually signed for Manchester United. In the case of Berbatov, Spurs stalled for so long that they ended up running out of time for which to purchase a replacement, one of the contributing factors to their dire start to the 2008/09 campaign. However, that situation is unlikely to be replicated with Modric, Spurs have plenty of depth in midfield and I'm sure that they will have learned from their mistakes of three summers ago.
In fact, different from the situation surrounding Berbatov, Modric is the man who could risk leaving things too late. The Croatian is undoubtedly one of the finest midfielders in the Premier League, though not a statistical contributor, Modric is what make the Spurs midfield tick, the man who ties together all of Tottenham's attacking pieces. At age twenty-five, Modric is nearing his peak, a period that will define his career, one which will dictate the thoughts that come into our head when, twenty years from now, we reflect on Luka Modric. At Spurs, Modric's career will only stall, the best players in Europe need to be playing in the Champions League every year, and for all Redknapp's talk of "signing two or three top, top players" the Englishman cannot guarantee Modric that. Last season, with Spurs preparing for a Champions League campaign, Redknapp made the same promise about incoming talent, yet was only able to bring in Rafa Van Der Vaart, a talented player, but not fit enough to last through the Premier League marathon.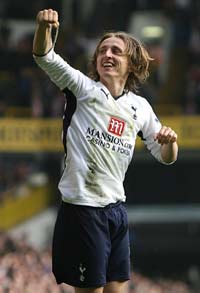 At all of Modric's potential destinations (Chelsea, United and City) the Croatian would be able to look forward to years more of Champions League action; the money of City and Chelsea guarantees that they will be there year upon year, as does the prestige of United, continually fueled by the genius of Ferguson.
If talent is not made use of at a big time club, it can stagnate, and that must be the number one worry for Luka Modric. It is important to take opportunities by the scruff of the neck; in the short and unpredictable career of a footballer, they can go begging very, very fast. Before long, Modric will no longer be the name on everybody's lips, someone else will take over, and the Croat's time will have ended. However, a move to either one of the three aforementioned clubs would be perfect for Modric, all three would guarantee an opportunity for him to extend his time in the limelight.
Sure, there are players who prefer to be remembered for their loyalty and not their trophy cabinet; men like Marco Di Vaio and Matt Le Tissier elected to remain loyal to relatively small clubs, and bypass the opportunity of garnering silverware. If that is what Modric wants for himself then so be it but, as I suspect, if he wants to be remembered for brilliant, trophy winning performances, he must move on or risk fizzling out.
Read more by David Yaffe-Bellany @
EPL Talk
and
Red Flag Flying High