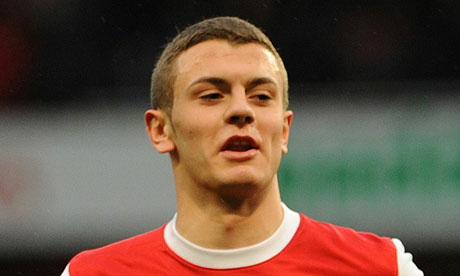 When David Villa clinically dispatched his best opportunity of the game mid-way through the first half, one struggled to see anything other than a Barcelona rout, from Arsenal's first leg Champions League tie with the Catalan club. However, due to a combination of Barcelona profligacy in front of goal and a lucky, mis hit Robin Van Persie cross, Arsenal found themselves leading the tie upon the conclusion of the first leg.
Though all the headlines will be of Arshavin gaining redemption for what has been a woeful season by his standards, by sweeping home the all important goal, the lion share of the credit for Arsenal's comeback should really go to young Gunner, Jack Wilshere. From the start it was clear that Arsenal's homegrown prodigy was up for the game, and as the minutes ticked by the England international just got better and better. Providing a rare combination of aggression in the midfield, and an ability to spray out accurate passes, Wilshere dominated a midfield also occupied by legendary duo Iniesta and Xavi. About mid way through the second half, Martin Tyler mentioned during his commentary that he thought "the biggest compliment that could be payed to Wilshere was that he had performed like a player capable of playing in Barcelona's midfield." These comments truly summed up what was a master class in midfield play, made yet more remarkable by the fact it was carried out by a player aged a mere, 19. Like Lennon last night and Ashley Young a week ago, if Wilshere continues to perform like this, he will find himself a fixture in the England national team.
Countless positives can be drawn from the spirit Arsenal showed in coming back from a goal down, but Arsene Wenger will know that this tie is anything but over. In what is set to be a spectacular encounter at the Nou Camp in three weeks time, Arsenal can be expected to be battered by waves of Barcelona pressure, and only a brilliant performance by the midfield and back four will give Arsenal any chance of going through. There is no question that Lionel Messi will not be kept quiet for two game running, and Arsenal can anticipate a master class from the Argentinian. Last year in this fixture Messi tore Arsenal to shreds with his skill, pace and finishing but, hopefully, Arsenal will be better equipped this time around to deal with his considerable threat.
Will Arsenal succeed in making it to the quarter finals?