1. David Beckham can still strike a free kick-
He's scored them at Wembley, Old Trafford and the Bernabeau, but none will have felt sweeter than conversion at the Home Depot Center. Okay, so they were already three-one up, but Beckham will be satisfied by his first goal of the season, one which should help to appease his critical American audience. In my opinion, some of the slights aimed towards Becks have been unfair, as you can read
here
, Donovan is the man who deserves critique. LA are starting to fire on all cylinders now, Beckham, Donovan and Angel are all clicking into gear, a combination which could lead the Galaxy to MLS Cup 2011.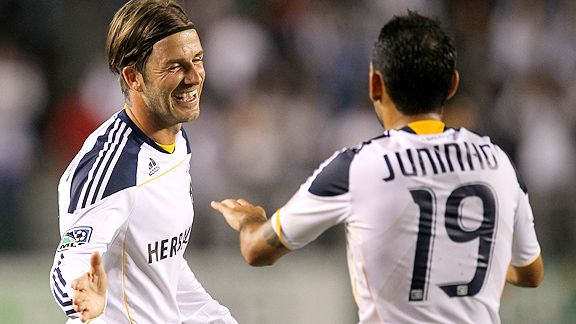 2. Justin Braun is alive and kicking-
With no starts and no goals, Justin Braun's 2011 was by no means dynamic, but a hat trick in New York has changed all that. For one of those consigned to forever just about be knocking on the door of Bob Bradley's United States team, it is important that Braun takes by the horns every chance he gets, and he did exactly that at Red Bull Arena. His first was his screamer, his second a deft touch, and his third a tap in, together enough to lift Chivas USA over the New York Red Bulls. The goals showed a combination of superb skill and expert poaching, weapons which will continue to assist Braun throughout the season.
3. Dallas don't need Davide Ferreira-
The form of FC Dallas following the injury to Davide Ferriera has been quite remarkable. A win away at Vancouver preceded victories against LA, Toronto and now Philadelphia, scalps which should help Dallas on their way to the playoffs. While one star has fallen by the wayside, others have stepped up, most notably young Colombian Fabian Castillo, but also American full back Brek Shea. Castillo and Shea both scored against the Union on Saturday, as they did against LA two weeks ago. Shea however, may well be part of Bradley's Concacaf Gold Cup squad, and that will come as a blow to Schellias Hyndeman and company, but at least they will be able to retain Castillo.
4. Khari Stephenson has a golazo or two in his system-
They haven't scored too many this season, but two of the San Jose Earthquakes' goals have come via the boot of Khari Stephenson. On Saturday, Stephenson smashed one home from distance to help San Jose on their way to a resounding 3-0 win, following up on another blaster, back in week three against Seattle. Stephenson seems, much like Juan Agudelo, to have developed a penchant for the spectacular, and hopefully for the Earthquakes he will keep his goalscoring form up.
5. The Cascadia Cup could become a great MLS rivalry-
The two best supported teams in Major League Soccer played out an interesting match on Saturday night. Broadcast live on ESPN, the match was in some aspects a decent advert for the game in the US, it was filled with passion, noise and a couple goals, although the football was often sloppy. Portland will probably exit the game the happier of the two teams, they were the away side, and John Spencer must have feared the worst when Fernandez gave the Sounders the lead. However, big center half Futty came up with his second consecutive goal to secure a point for the Timbers, and a share of the spoils in the first edition of the Cascadia Cup.