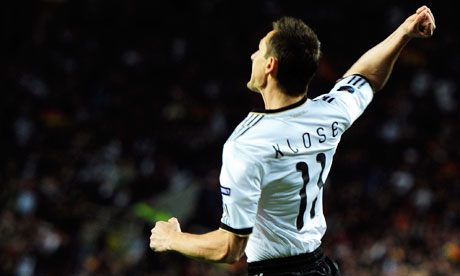 1. The Italians are a force to reckoned with-
Post World Cup there seemed to be nothing but doom and gloom around the Italian national team. The 2006 champions had been dumped out at the first hurdle in arguably the weakest group in the competition. They were a team chalked full of veteran players, all of whom were without the legs to bring Italy to the next level. But since their debacle in South Africa, Italy have gone through a bit of a renaissance with new coach Cesare Prandelli bringing in a fresh wave of players. Antonio Cassano was brought back from exile, while Giampaolo Pazzini and Giuseppi Rossi were given first team places. Young defenders like Rannochia and Balzaretti (who was superb against Slovenia by the way) were also drafted into a side which is beginning to look like a force to be reckoned with. Prandelli has totally revamped the midfield, bringing in Aquilani, Motta and Montolivo in place of the likes of Pirlo, Gattuso and De Rossi. Against Slovenia Italy looked a fluid unit, solid at the back, but dangerous up front.
Italy's one-nil win in that game
virtually guaranteed them a place in next summers finals, a competition which will give us a huge indicator of what is to come for the
Azzuri.
2. David Villa is a true legend-
Okay, maybe we didn't need this week's international fixtures to tell us this, but Villa's double against the Czech Republic certainly reaffirmed the opinions of David Villa admirers everywhere. 1-0 down with half an hour to go, Spain were in deep trouble, but as they always say, "cometh the hour, cometh the man" and David Villa was certainly the man on this particular occasion. Under pressure after a goalscoring drought for Barcelona, Villa turned it on, scoring a superb goal to bring Spain level. Minutes later, Villa was once again placed in the pressure cooker, after the Spaniards were awarded a penalty, and with it a chance to win the game. Calm as ever, Villa tucked the ball away with aplomb giving the
Furia Roja
a precious 2-1 advantage. Come the final whistle, not only had Villa won the game for Spain, but he had also finally broken Raul's long standing goalscoring record for the national team. Villa had been on a bit of a drought for Spain since his penalty against Scotland equaled Raul's record, but following his brace last Friday, and subsequent claiming of the record, it may now be time for Villa to be dubbed the greatest ever Spanish national team player.
3. Holland want to move on from South Africa-
It is truly a shame for Holland that after a brilliant showing in last summer's World Cup, the enduring image of their performance in South Africa will be that of Nigel De Jong's kung-fu kick on Xabi Alonso. After a final with a record number of bookings, the Dutch were accused of dirtiness, and even negativity. For a country who's football has been so long defined by Johan Cruyff and the "Total Football" of 1974, these accusations were received with much sadness. However, since the tournament, Bert Van Marwijk has gone to all sorts of lengths to change the uncomplimentary label gained during last summer's excursions, with his most notable decision being to drop the aforementioned De Jong after a series of poor challenges in club play. Van Marwijk and the rest of the Dutch football world clearly want to be known for a more positive brand of football, and the team's two matches against Hungary both look to be a step in the right direction. In the first match, Barcelona's Ibrahim
Affelay and Inter Milan's Wesley Sneijder were imperious in midfield, during a performance which was labelled "Barcelona like" by some. In the next match, Holland once again struck a high goal tally, with Dirk Kuyt in particular looking to be enjoying some fine attacking form. With a host of exciting forward players, both old and new, it seems like it will only be a matter of time before Holland are once again known as one of Europe's attacking juggernauts.
4. Miroslav Klose is the game's greatest international goalscorer-
Known for his struggles at club level, Miro Klose once again proved this weekend that on the international stage he is still a force to be reckoned with. A brace against Kazakhstan continued a fine run of goalscoring form and, perhaps even more importantly, that double leaves him only a handful of strikes behind Germany's record marksman, Gerd Muller. At the World Cup, Klose equalled Muller's scoring record for that particular competition, and the striker will hope that he can go one better in the chase for Germany's overall goalscoring prize. So is Klose the world's greatest international goalscorer? His record is practically impeccable, and I can't think of any other player who have found the net so consistently, for such a long time, at such a high level. Certainly, there are better players than Klose on the international stage, Messi and Ronaldo are clearly superior athletes, but neither has quite managed to cut it at the World Cup, or even during run-of-the-mill type international matches. Unless one of those pair can translate their club form to the international stage, Klose will remain the game's greatest International goalscorer.
5. France are back-
Much like fellow 2006 finalists Italy, the French World Cup campaign was a total debacle. Ridiculous infighting coupled with poor showings on the pitch led to an early exit from the World's most prestigious competition. However, since Laurent Blanc took over the reigns from Raymond Domenech, France have been much improved, and they're are currently cruising through their Euro 2012 Qualifying group. A win over Luxembourg last weekend marked the return to the national side of temporarily exiled World Cup flops Frank Ribery and Patrice Evra. With those two stars returning, and a host of young players such as Karim Bemzema, Yoann Gourcuff and Jeremy Menez promising a rich future, the French national team may be entering an exciting new era.